TiVo Service Pricing
TiVo service comprises many components including guide data (for some units), service updates, online scheduling (some units), and links to online features. TiVo charges for this service. In fact, the business model at TiVo includes their intention for this service to be the primary source of revenue - more than they receive from hardware sales.
TiVo has several classes of service - most of which incur a fee:
TiVo Basic
The "basic" level of service was free on all Pioneer and Toshiba units. These units all included a DVD player or burner, so the idea was that the customer would pay a premium up front, and would at least be able to use the DVR as a basic recorder and use the DVD player/burner without a fee. The basic server limited many features and didn't allow for any networking, Season Passes, WishLists, etc. For the same fee as for other standalone units, these units can be upgraded to "TiVo Plus" service. TiVo Plus for these units is essentially the same as regular TiVo service for all other units.
General TiVo service
General TiVo service is called TiVo Plus on units that can get TiVo Basic.
This is the TiVo service that basically all TiVo DVRs (except those with DirecTV receivers inside) use. The service includes generally allowing the TiVo to operate, updates for the program guide data, updates to the TiVo OS, access to all of the networking features, TiVo Desktop, and access to the online scheduling areas of TiVo's website.
The TiVo DVR is dependent on the having current TiVo service. Early TiVo DVRs (Philips HDR series and Sony SVR-2000) will work in a limited mode without current TiVo service. They'll be able to change channels and pause live TV, but recording will be disabled completely.
All Series2 and Series3 TiVos (except those, above, that have TiVo Basic) will not work without a current subscription to the TiVo service. TiVo owners can see what type of service they have either on the website or in their unit's System Information screen.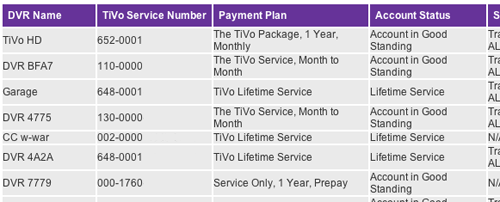 TiVo, Inc. has changed the pricing of TiVo service many, many times over the years. In addition, they've changed the length of pre-paid plans, and eliminated and brought back the lifetime TiVo service option.
Initially, there were three options: $9.95 monthly, $99 yearly, and $199 for lifetime. Of course, the lifetime option made sense to most; likely this was by TiVo's design, since it brought them revenue upfront. They soon raised the price of lifetime service to $249, and eventually to $299 before eliminating it completely.
Then the monthly fees went up, first to $12.95, then to a mix of prices depending on how long the customer committed to being a TiVo subscriber (not necessarily paying in advance, but entering into a contract, similar to a cell phone contract). TiVo also began offering prepaid service for one, two, and three years. Initially the three year price was the same as the two year price, advertised as a special offer.
MultiService Discount
For customers with multiple TiVo DVRs on their accounts, TiVo offers a discount for the secondary units, currently up to a total of five per account. While monthly service on a primary TiVo is currently $12.95 when not prepaid, MSD units can get service for $9.95/month. In addition, under TiVo's current offerings, MSD units can get one year of service, prepaid, for $99, or lifetime, for $399. In fact, lifetime service is currently only available through this mechanism, to current customers.
TiVo Service through DirecTV
Customers who have DirecTV/TiVo combo units currently pay for their TiVo Service through DirecTV. DirecTV assesses a DVR Service Fee of $5.99/month, per account. So multiple DVRs (of any type, as long as they're integrated with DirecTV tuners) pay the fee only once per account, per month. This fee is waived with certain DirecTV packages.
In addition, since DirecTV TiVo customers initially paid their fees to TiVo directly, some purchased lifetime service for their combo units. In this case, the lifetime service has essentially been absorbed by DirecTV and now functions to